Oct'23·Jordi Capdevila·4 MIN
Contextual Audiences by Seedtag: Making AI-powered targeting capabilities a reality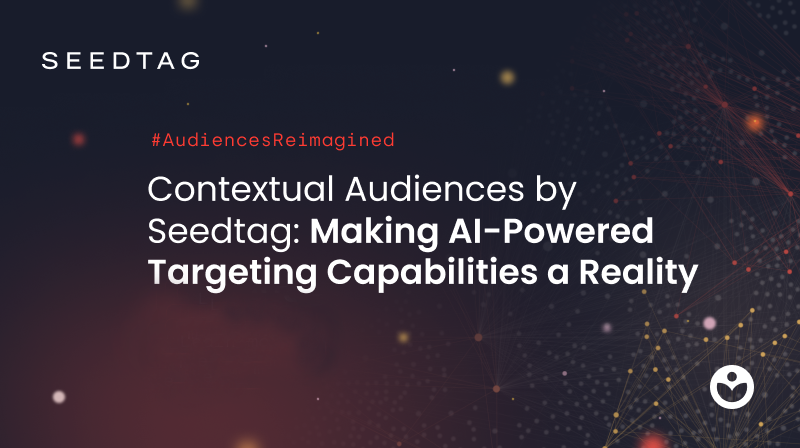 Get the latest news about Contextual Advertising right into your inbox!
Phasing out of third-party cookies, brand safety and brand suitability, privacy laws, and changing customer preferences are among the top factors that have brought the spotlight back on contextual advertising in the global ad tech landscape. Contextual ads are increasingly becoming the preferred choice among advertisers, publishers, and customers today.
A factor that plays a key role in helping brands reach their desired target audience is the audience selection process. An audience refers to a group of people with similar interests and shared characteristics. This crucial element helps brands reach the right individuals who are most likely to be interested in their product or service.
Traditionally, audience categorization is a process where people are grouped based on their interests and past behavior patterns. This method is limiting because it tends to group individuals based on stereotypes, and relies on third-party cookies. Poor categorization of personas can have a negative impact on marketing efforts and campaigns as the categories are not 100% accurate, resulting in incorrect targeting and wasted ad dollars.
We live in a world that is embracing diversity and inclusivity with open arms and actively steering away from stereotypes. Brands looking to level up their advertising game need to keep up with the changing times and better understand audience preferences.
What if they could go a step further with their targeting strategies?
What are Contextual Audiences?
Contextual advertising focuses on placing ads on web pages where the on-page content and context align with the ads. Contextual audiences refer to individuals who are identified and grouped based on their online behavior and the context of the content they are currently engaging with.
At first glance, contextual audiences may seem very similar to the traditional audience categorization process where people are grouped based on their interests. However, the key differentiator is that contextual audiences do not leverage any personal data, and create audience groups solely based on contextual cues.
Instead of using the most common and typical way of grouping individuals based on personal information, contextual audiences use the power of context to group people. Contextual audiences ensure scalability, privacy adherence, and greater precision, making it a method ideal for the post-cookie world.
What challenges do Contextual Audiences solve for customers?
Contextual audiences are a targeting capability that enables brands to ace audience segmentation and targeting by displaying ads that are most relevant to them.
With the deprecation of third-party cookies and the implementation of tighter data privacy laws, brands need a solution that empowers them to reach the desired target audience.
Consumers have raised concerns about data privacy and do not want to be tracked or are already untrackable. In a world that puts data privacy on the front seat, this targeting capability is a great way to deliver relevant ads without violating privacy.
It is also a great way to reach out to the most relevant customers with ads that better align with their real-time interests, using the right message, and displaying them at the right time.
Go a step further with Seedtag Contextual Audiences
The conventional way brands understand their audience does not work anymore as they are built on stereotypes, clichés, and non-privacy-compliant strategies. Contextual audiences can help brands find a diverse, inclusive, and relevant audience base using privacy-first technology.
Seedtag Contextual Audiences can help customers do all of that and more! Crafted using Custom AI, contextual categories, images, and cookieless sociodemographic models, our contextual audiences evolve from customer input and diverse market research.
Powered by Liz, our pioneering AI technology, Seedtag Contextual Audiences are built to deliver audiences that are unique and dynamic to suit specific business needs. Using AI models, our contextual audiences create a comprehensive network that generates audience categorizations that are relevant to a brand, whilst respecting consumer privacy.
Types of Contextual Audiences
To empower brands with our unique, AI-powered targeting capabilities, Seedtag offers three types of audiences:
Signature Audiences: These are audiences defined by Seedtag and backed by insights provided by Liz, panelists, and research data. Brands can seamlessly activate pre-defined and tested audiences with clear interests and attitudes toward their products. Signature Audiences provide very accurate results with room for a certain degree of customization to better suit brand needs.
Examples: ​​Luxury Car Enthusiasts, Adventure and Outdoor Enthusiasts, and Environmentally Conscious Consumers.
Off-the-shelf Seasonal Audiences: Similar to contextual audiences but more focused on a particular event in time, this type has a clear start and end date for activations, and takes advantage of interest spikes throughout the year.


Examples: Black Friday sale, Earth Day awareness, and F1 Grand Prix season.

Custom Audiences: These are one-of-a-kind audiences engineered to help brands solve specific challenges. As the name suggests, this goes beyond the pre-set audiences, leverages the targeting capabilities of Liz, finds exactly where the users are, and creates a tailor-made audience targeting strategy.
What sets Seedtag´s Contextual Audiences apart from regular audiences?
Traditional audience targeting methods typically leverage cookies, and the audience categorization is based on stereotypes. This contributed to the increase in the popularity of contextual targeting methods which are interest-based. It targets the most relevant users at the right time with content that aligns with their current mindset.
However, even contextual targeting cannot solve every challenge and it has its limitations when it comes to scale. Seedtag contextual audiences go beyond these limitations and provide a targeting capability that is cookie-free, flexible, accurate, and precise.
Seedtag's contextual audiences are future-proof, thoroughly tested, built for scale, and backed by advanced AI models. The audiences are constantly updated using our network analysis capabilities to optimize targeting precision and meet KPIs. With Custom AI, our targeting capability offers unique audience definitions and real-time improvements.
We partnered with Metrix Lab to evaluate the effectiveness of our custom AI in delivering precision at scale to unique target audiences. The research revealed that using custom AI, which is the backbone of our contextual audiences, affinity went up by 92%.
Seedtag's Custom AI model allows brands to craft unique contextual territories based on the audiences' interests.

Our technology goes well beyond classic contextual technologies. We leverage external and internal innovation in the AI ecosystem to bring new capabilities like contextual audiences that go beyond standard taxonomies. For example, curating a campaign targeting automotive enthusiasts or city drivers and urban commuters.

Brands can create unique, tailored audiences without any dependencies on cookies.

Our targeting capability is constantly evolving and improving as it is based on real-time data from our network.

It enables brands to engage with users at the most optimal time by effectively delivering personalized and optimized experiences.
Contextual audiences by Seedtag are advanced and garner users by capturing their attention at the ideal moment, without relying on cookies. It also addresses the reach and scalability issues that many brands currently face and is a flexible solution that goes beyond rigid taxonomies or stereotypes. The unique targeting capability fueled by AI offers greater precision and helps achieve higher accuracy when compared to traditional targeting practices.
Get in touch with us to know more about our latest targeting capabilities powered by AI models.
How contextual targeting offers an AI-powered inclusive targeting strategy
See next